Old Updates
This is the year 2008 old updates of the site. To see the lastest news click here.
---
12/21/08
A message from the webmaster :
I'll be in vacation for one week, see you on monday, the 29th!
---
12/05/08
Master Of Kung Fu blast from the past recreation
---
11/19/08
The new Captain Action cover not colored
And now check Grace Randolph review of the last 007 film
---
11/18/08
A new Batman from Paul
---
11/14/08
A message from the webmaster :
<

My son Paul Bortolin is one year old today!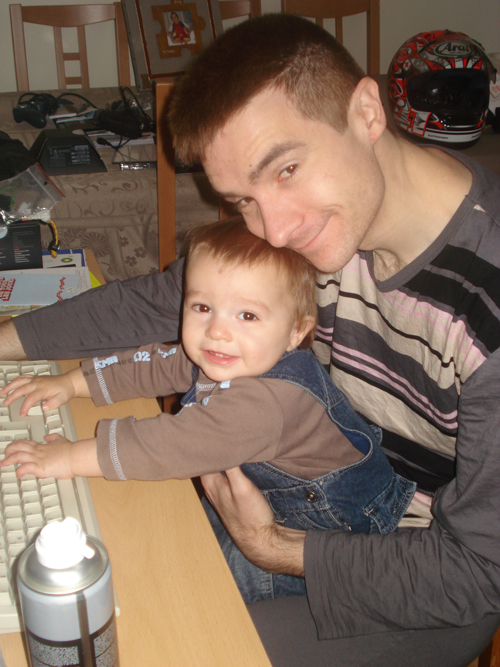 ---
11/09/08
Spoiler pages from True Believers issue 5!
---
10/19/08
Beth's column for October
Mag-nificent Coverage
By Beth Delaney
Comic book fans have a multitude of outlets from which to glean information about their favorite characters, creators and franchises. Not so long ago, it seemed like I got most of my gossip needs online through columnists but I quickly discovered other outlets. I got hooked on
Wizard Magazine
and the
Comic Geek Speak
podcast. Podcasting alone has served me with daily entertainment not only CGS but also
Comic News Insider, Alternate Reality, Comics Coast to Coast
and others.
Expanding my magazine subscriptions, along came
Comics Now! Magazine
published by podcaster and Master Geek Bryan Deemer with Comics Media Partners.
Comics Now!
just put out Issue #3 and is getting stronger each time. If you like in-depth accounts of DC or Marvel crises then this is perfect for you.
Comic Foundry
was something I heard about at a convention where they had a booth. I saw Matt Fraction on the cover (now he's a regular columnist) and got curious but didn't commit to purchasing it at the time. Then I saw G4TV's darling yet raunchy Olivia Munn plug her appearance in the mag and wanted to get my hands on it even more. Diamond was unable to obtain that particular issue for me but October's edition finally made its way into my pull box.
Below is a simple comparison of my top three magazine choices for comics to help you decided if any are right for you:
Title
Latest Cover Price
Pros
Cons
Grade
Wizard
$5.99

Most popular by far, Wizard Entertainment encompasses not just the mag but a massive online community of comics and pop culture entertainment.
Wizard gets some of the best coverage of franchises as a whole especially once Hollywood gets its mitts on a beloved comic book series. They provide excellent articles and interviews each time.
Every issue has a coverage of current market conditions for collectors.
Comes out monthly.
Covers other industries of pop culture including gaming, television and movies.
Obviously the company is secure with its success of the mag, website and several big city cons each year.

Wizard notoriously recycles their work! It's aggravating that their website spoils the mag and vice versa. Not to mention that issue to issue of the magazine will contain some recycled stuff as well. I've read the same quotes from actors in different articles of Smallville, Heroes and Spider-Man. If they only the chance to interview someone only once, then that's the time to run the interview. They don't need to rez their own coverage. You see the same author credited on so many articles that you have to wonder if it's just a one-man show.
The light-hearted nature of the mag tends to show on the superficial aspects of the entertainment industry.

A-
Comics Now!
$5.99

An upstart mag started by geeks for geeks. This mag manages to break down the industry into sections clearer than its competitors. There's dedication to coverage of podcasting, European bede, conventions, & toys.
The main features are lengthy (also a con, imo) of top comic stories and also of past universe-altering events.
Their coverage of other avenues such as Bede and Toys is refreshing!

Because it's just starting up, punctuality in publishing is not strong yet.
Diamond Distributors (where all comic shops get their stuff) has had a problem with bringing the issues to the shops. Issue #3 for example, should have been available around the time of San Diego Comic-Con but only hit some people's boxes in Oct; others are still waiting.
The thoroughly detailed articles are just what some fans want but for others, it's too much. These term paper size articles should contain sidebars with just the highlights or timelines of the subject.

B
Comic Foundry
$5.98

CF has managed to get some industry favorites on their staff including Matt Fraction and Mark Waid. The rest of their staff is diverse and provides even coverage for male and female readers.
Their anime/manga coverage is the best of the three. Kai-Ming Cha is their columnist for this genre and she provides intriguing and honest examinations of it as an industry and how success in Japan does not mean there will be success in the States.
If you are anti-Wizard, then CF is probably for you. They don't censor any language. The columns are written in such a way that you feel as if these ballsy folks are chatting with you at a pub.

The price is basically the same as the others but you don't get nearly as much for your bucks.
Quarterly publication so far; for some readers that's not enough.

B-
Links:
WizardUniverse.com
IWantMyComicsNow.com
ComicFoundry.com
---
10/09/08
Dave just sent me that :
Hi Matt

Here's the latest news from Desperado Publishing: The Sabre 30th Anniversary HC Edition will be released on November 30, 2008. As you may recall, Paul did a new cover for this book....which was posted earlier on the Gulacy website in b&w. Don McGregor is also writing a new Introduction to the book regarding how he and Paul created the character of Sabre.

Secondly, Virgin Comics was bought out by Liquid Comics on September 24, 2008. It was reported that Liquid Comics plans to publish many of the previously announced Virgin Comics projects. Hopefully, Nowhere Man by Hugh Jackman, Marc Guggenheim & Paul Gulacy will be one of those published projects. Paul completed issue # 0 of Nowhere Man which will be a special 16 page preview of the series. Liquid Comics will be announcing shortly which comics will be published.

That's all this time.

Dave
---
10/08/08
Spoiler scenes from True Believers issue #4
Dave just sent me that :
Hi Matt
Did you know that Paul's artwork for the retro cover of Captain Action # 0 is being used on some Captian Action merchandise items? It's true. Paul's art is featured on a computer mousepad & a yellow t-shirt which have been produced by Moonstone Books and Captain Action Enterprises for 2008. I've attached scans of both of these items. Anyone who is interested in ordering these items can do so at
www.cafepress.com/cptaction
.Check it out!
Dave
---
10/02/08
Renaud again :
And now the mail from Norbert :
---
09/08/08
Our friend Grace Randoplh takes the mike to the street...
---
09/06/08
Check this interview of Paul about "True Believers"
---
08/29/08
Paul just send me this two pages taken from True Believers issue #2 :
---
08/22/08
What I like about Renaud's mails, is that they are short!

A message from the webmaster :
I just received the San Diego Comic-con Souvenir Book and I just learned that Dave Stevens has died early this year. For those who don't know who he was, check his Official Site..
---
08/13/08
Beth's column for August
Gaming Music Tour: Video Games Live Concert Series
By Beth Delaney
Due to the wonder of G4TV and learning how to use RSS feeds in my beloved FriendFeed (
http://friendfeed.com/elizabethamber
) which kicks Twitter's ass – I have come to learn about this wild concert tour called
Video Games Live
(
videogameslive.com
). I admit, I'm not a "gamer." I play one game:
City of Heroes
and that's it. I did my share of 80s gaming as a kid with my brothers' Atari systems. Bearing that in mind, 80s game music was high-pitched midi noise that could make a dog's ears bleed. Today's gaming experience doesn't even resemble what I played or heard before.
Games today have full soundtracks and some like
Guitar Hero
and
Rock Band
have "real" music by "real" bands (ie, bands whose music you know and can actually buy). Besides the music-centric games, virtual wonders like
Prince of Persia
and
Final Fantasy
have musical scores that are worthy of Oscar noms in the same vain as any blockbuster movie soundtrack.
If you consider the musical background to be an essential part of your gaming experience, you should check out the Video Games Live concert tour. Chances are the ensemble is hitting a city near you. This is a worldwide tour including Portugal, England and Brazil plus many more. Many of the shows are already sold out. There are also a handful of 2009 dates announced too. In December the tour is coming to New Jersey and definitely seems like a great way to end 2008 (check out the NJ PAC in Newark).
The
VGL: Volume One
album has done well on
Billboard's
Top 10 chart in the Classical Crossover Album category. On August 9, it hit #10. Not bad for an album with gaming soundtracks!
---
08/10/08
Paul and good pal Jim Steranko share the Vanguard Publishing booth at Comic-Con.
---
07/27/08
I got to mails in a row : Renaud wins the first place. His mail was sent yesterday, at 22:11. Than David's own arrived 2 hours after. So here's the message from Renaud!
VIRGIN COMICS
NOWHERE MAN #0
Created by: Hugh Jackman
Story by: Hugh Jackman & Marc Guggenheim Script by: Marc Guggenheim Art by: Paul Gulacy Cover by: Marko Djurdjevic
Its 500 years in the future and an oppressive government monitors everything - including your mind. It's the Patriot Act gone haywire.
Everyone on earth has been infected with a virus that allows a central computer to tap into and analyze their thoughts. But a group of rebels have engineered the ultimate weapon : a genetically altered child, born immune to the virus. With the ability to act undetected, he's the only one on the planet that can bring some semblance of privacy and individuality back to the world. It is his destiny. He is the Nowhere Man.
From the minds of Hugh Jackman (star of X-Men, Wolverine, The Fountain) and Marc Guggenheim (Amazing Spider-Man, Wolverine, TV's Eli Stone), with internal art from superstar Paul Gulacy (Penance, Catwoman) and cover by Marko Djurdjevic (The Dark Tower, Amazing Spider-Man) comes a sneak peek at this groundbreaking new action series from Virgin Comics.
16pgs, FC $1.00
http://www.virgincomics.com/nowheremancontest/
Renaud from Quebec
:-)
Thanks a lot for this good piece of news!
David's turn!
Matt!

A friend of mine went to SDCC and posted this picture of Paul. I was supposed to go, but had to work. I even had my 4 day pass.

Paul at the San Diego Comic-con

Be well!

David!
Well, my fellow David, thanks for the link, and maybe next year you'll be able to go to San Diego. It seems that Paul is invited each year now!

A message from the webmaster :
I'll be far away from my computer for two weeks. VACATIONS! See 'ya around!.
---
07/23/08
Paul is a special guest at the Sand-Diego Comicon!
A message from the webmaster :
'working on the site, I did add a logo on the side bar of your browser when you reach the site, a small

.
---
07/19/08
Beth's column for July
It's July and the temperature in NJ is reaching 100. It's horrible weather to be outside. What do you do instead? Watch TV of course. Tanning gives you wrinkles anyway and skin cancer. Here are some things that should keep you a bit busy:
* G4TV – Right now, G4TV is providing lots of coverage of the big E3 convention to be followed by San Diego Comic-Con coverage. They also have some excellent shows and movies including
Code Monkeys
and
King of Kong
(the story of two men battling for the Donkey Kong world record); plus there's the daily news program
Attack of the Show
which really is the only news you need to know.
* The History Channel – Batman Unmasked: The Psychology of the Dark Knight. This is an excellent documentary about the psychology of the characters in the Batverse. Doctors and comic creators discuss the differences in choices which separate Bruce Wayne from the rogues' gallery.
(
http://www.history.com/shows.do?action=detail&episodeId=322796
)
* The Discovery Channel – Shark Week continues its annual tradition of educating viewers with fun programming. Shark Week begins July 27th.
(
http://dsc.discovery.com/convergence/sharkweek/sharkweek.html?dcitc=w99-502-ah-0063
)
* USA Network – New episodes of
Monk
,
Psych
and
Burn Notice
! Three excellent shows that you shouldn't miss. If you miss them, USA usually runs them on Saturdays plus they are uploaded to Hulu (with only a few seconds of commercials so it's a great way to watch your favorites.)
---
07/07/08
A message from the webmaster :
Common, everybody sings with me :
Happy birthday to you. Happy birthday to you. Happy birthday to you, dear webmaster. Happy birthday to you!
Thanks.!
---
07/06/08
A message from David :
Hi Matt!

Ever since I did that partial restoration of MOKF 40, it's been bothering me that I didn't really do it justice. I love that particular so much that I've been working on it a little bit at a time, and have finally done it some justice, I think.

Sorry to send this to you again, but it's much improved. Aside from the lettering, it should be just about the finest job of restoration you've ever seen. I didn't touch the lettering, and maybe some day I will, but I've finally done justice to the art itself. So I hope you'll replace my earlier effort with this new and improved version.

I'm also attaching something I sent you a month or two ago that I never saw posted. Maybe you've posted it some other time and I missed it. It's a page from MOKF 48 that Paul inked himself. The rest was inked by Pablo Marcos, I think. Either way, it was the last regular page of MOKF that Paul would ever ink, and it's a beautiful piece.

I hope you are well!

David!
Yes, David I'm well! Each time I get that kind of present in my mail box, I feel great! Thanks for your time restoring these pages.
---
07/04/08
Take a look at the cover for True Believers #4.
---
06/23/08
A message from the webmaster :
Roaming the 'net, I found the new site of Brian Bolland. Check it out.!
---
06/07/08
And now for some new sneak peak pages from True Believers issue#1
Jan from Denmark, with the help of Dave from the U.S.A., has made a list of Paul work here. Check it out!
---
06/07/08
Take a look at the cover for True Believers #3.It's a showdown with Luke Cage!
Tomorrow, I'll post 4 pages taken from True Believers #1.
---
05/22/08
Renaud from Quebec sent me this :
---
05/08/08
SNEAK PEAK!!! Get ready.Payback is coming!
Dave just sent me that :
Hi Matt

In regard to Mike Coty's question, Paul only did a cover (& what a great one it was of the Rook at the Alamo) for Warren Presents # 2. That's all. I've looked into this in the past myself.

However, I did find out an interesting piece of information. Paul had completed a 20 page story for "The Rook magazine" # 1 by Warren Publishing in 1979 (written by Bill Dubay) that was never used. It was later redrawn by Lee Elias for use in that issue. The story was titled "The Original Master of Time". I sure wish we could have seen Paul's version of that story.

I hope this helps.

Dave
---
05/14/08
A message from the webmaster :
I'm still working on the site. Now in the Gallery, by clicking on a cover of a Catwoman issue, you'll see thumbnails of available pages on the site.
---
05/01/08
Michael Coty sent me some fixes to be done on the List Part 4 of Paul's work, about Warren Presents info.
But Mike got a question :
Is there another issue of Warren Presents with Gulacy art?
I'm not sure, but if someone can answer his question... He's or she's welcome to send me the answer.
---
04/27/08
Here are all the pages of the 29th issue of Master of Kung-Fu scaned and restored by David.
A message from the webmaster :
I'm working on the site, making bigger thumbnails. If you find dead links, do not hesitate to warn me!
---
04/26/08
Here are all the pages of the 38th issue of Master of Kung-Fu scaned and restored by David.
---
04/24/08
We at the Gulacy website do not necessarily share these viewpoints :
http://howtokillpeople.com/2007/03/29/the-50-worst-comic-book-characters/
---
04/23/08
The fourth and last scan Roger sent to me, taken from Master of Kung-Fu issue #49 :
---
04/22/08
The new 30th anniversary Sabre cover
---
04/21/08
The third scan Roger sent to me, taken from Master of Kung-Fu issue #49 :
---
04/15/08
Check these two links Renaud sent me tonight!
http://www.marvel.com/comics/onsale/covers/0708/TrueBel001.jpg
http://www.marvel.com/catalog/?id=9202
Dave just sent me that :
Hi Matt
Just a reminder that that
Captain Action #0
with a Paul Gulacy cover will be out this Wednesday April 16th. Look for it.
Dave
---
04/13/08
Well it's sunday, so I work a bit on the site. Check here all the pages of the 22th issue of Master of Kung-Fu scaned by Henry, and there all the pages of the 40th issue of Master of Kung-Fu scaned and restored by David.
And now the third scan sent my Roger
And I would like to thanks here all the people who sent me stuff tpo improve the site. And if you sent me something that I forgot to post here, do not hesitate to mail me again!
---
04/12/08
The second scan Roger sent to me, taken from Master of Kung-Fu issue #49 :
The fourth page sent by david, from the 40th issue of Master of Kung-Fu is there :
---
04/11/08
If you like what David did on the 40th issue of Master of Kung-Fu check the third page :
And Roger sent to me this really incredible scan from Master of Kung-Fu issue #47 :
---
04/09/08
Here's the second page from Master of Kung-Fu issue #40, sent by David
---
04/04/08
Check out our friend Grace Randolph. She just landed a new dream job...
Click on Showbiz. Or directly here :
And now David sent me all the pages from Master of Kung-Fu issue #40. Check the first page here
---
04/02/08
Check out Beth's columns for April...
Beth's column
This month I rave about a website that I heard about on G4TV a month ago. They had reported on
hulu.com
going into beta testing back then. Well, the month is over and the service is now launched. It's not at all like YouTube which is a common misconception. At hulu, you can watch full LEGAL episodes of shows and full movies in really good quality. You don't even need to register but if you choose to, it helps to build yourself a nice playlist.
The site tested with contracts from NBC and FOX so at first it might not seem like there's a lot going on there but I know there's a good amount of my favorites up including:
Bones, Monk, Psych, American Dad
and
Gordon Ramsey
(the British chef that I have a new addiction for). It could be really quite dangerous for those of you in offices with high speed internet access. Boy, I used to waste a lot of hours on the message boards back then; I can't imagine how long it would have taken for me to get caught with something this awesome at my fingertips.
HULU also has interesting features. You can view clips - some of the shows and movies uploaded right now only have clips available. They only had so many interns to get things up and running. Users can also define clips themselves and take the code and embed it, email it, whatever!
What's great about a site like this is that shows that you enjoyed but only got a few episodes are up there! Plus there's some television history too like
Hart to Hart
and
Fantasy Island
.
The site is ad supported but that's only 25% of the ads you'd see on TV. There's even a countdown on the top banner of the video showing you a countdown for when the ad will be over. And some have an option of watching a two minute trailer once at the beginning then run the show commercial free.
---
03/22/08
'still roaming in my hard drive, I find these color scans from Giant Master of Kung-Fu issue #2. Enjoy!
---
03/18/08
Check these four black and white pages taken from "Jonah Hex" issue #12
---
03/16/08
Check these black and white pages taken from "Flinch" issue #4
---
03/15/08
I posted all the black and white scans of Slash Maruad issue #3, and now, time for the fourth issue.
---
03/13/08
I found this scans over the 'net. They are black and white pages taken from Slash Maraud issue #3
---
03/05/08
The fifth issue #5 of "Penance : Relentless" is out today!
And here are the last two scans sent by Roger
---
03/04/08
Dave just mail me that :
Hi Matt-
Let me add one piece of information about the Sabre 30th Anniversary edition HC book....Paul is doing a NEW cover! I just spoke with him. You can order this book at
amazon.com
or through Previews at your local comic book shop. As Renaud mentioned, it will be out on May 28th, 2008. I've already ordered 2 copies myself.
Dave
That's cool Dave, I'll give you my address in France so you'll be able to send me the second copy!



Just kidding!

And here are two scans sent by Roger
Oups, I have almost forgot to tell you that tomorrow, you'll be able to buy "Penance : Relentless" issue #5
---
03/03/08
Renaud from Quebec just sent me this piece of news, taken from the last issue of "Previews" :
From DESPERADO PUBLISHING scheduled to ship in May 2008.

SABRE 30TH ANNIVERSARY HC

by Don McGregor & Paul Gulacy

First time in hardcover! In anticipation to the upcoming new original SABRE graphic novel and to celebrate the 30th anniversary of the ground-breaking release of the comic that changed the marketplace forever, Desperado is proud to offer this deluxe hardcover of Don McGregor and Paul Gulacy's epic tale of the most explosive hero in comics! Includes a look back at the creation of the project from series creator Don McGregor.

MATURE THEMES

HC, 7x10, 48pgs, B&W SRP: $14.99 (Diamond Comic Distributors code: MAR08 3634)
---
03/02/08
Two scans sent by Roger
---
02/24/08
Check out Beth's columns for March...
Beth's column
Comics Now!
Magazine Editor: Bryan Deemer Reviewed by Beth Delaney
It's like a dream come true when a fan follows the noble path in pursuit of being a part of the comics industry. Such was the case for Bryan Deemer who has been known for years as one of the resident Geeks of the podcast Comic Geek Speak, a show I will never miss. As if he's a mild mannered journalist by day and cape wearing superhero by night, Deemer made time this past year to spread his wings from the high tech world of podcasting to the more old fashioned form of journalism when he started his very own magazine,
Comics Now
!
Toting an average magazine cover price of $5.99,
Comics Now!
issue one hit the shelves a few weeks ago and impressed everyone who was lucky enough to find it. Issue one flew off the shelves and readers were excited enough to share the news about this new periodical that some even left their copies in the comic shops just so others could get a glimpse and place their own back orders. This magazine includes very lengthy articles on Marvel's character Nova and DC's history of crises. These are the kinds of details that are absent in the shallow pages of other industry periodicals. There are plenty of short articles that can fill time while you read on your lunch break too. Plus, with Deemer's connections to the many creators he has interviewed as part of the CGS podcasts, gorgeous cover art is a sure thing. Issue one splashes a flying Nova by Jun Bob Kim; issue two will have a gang of super villains; and issue three will showcase Superman.
Comics Now!
plans to stand out on its own as a resource for comics fans and should not have a difficult time doing so.
Links:
Comics Now!
Magazine –
iwantmycomicsnow.com
Message boards -
thecomicforums.com
Comic Geek Speak –
comicgeekspeak.com
---
02/18/08
Check out Beth's columns for February...
Beth's column
I remember an episode of
The King of Queens
where Deacon was panicking because he couldn't find a good black superhero costume for his little boy Kirby. He gets disappointed thinking Darth Vader is the closest one available because Vader was voiced by James Earl Jones but not actually played by him. Incidentally little Kirby wanted to be a Powerpuff Girl. But anyway, it is true that there aren't readily available costumes for a black child in that situation and by God, there should be! It got me to thinking that February is indeed Black History Month and so we should take a moment in our comic book reading to honor the black superheroes we have grown to know and love over the decades.
I picked up the Marvel one-shot on Patriot in
Young Avengers Presents #1
which came out just a couple Wednesdays ago. It's a good reminder that there was a black Captain America in comics history. According to the Captain America wiki style entry at ComicVine.com, the black super soldier was Isaiah Bradley who first appeared in 2003. Like Steve Rogers, he was bulked up with the super soldier serum through Project: Rebirth. Three hundred test subjects were all African-American. As part of the storyline, the public was told that all but three of the super soldiers were killed by the Axis powers. To be persnickety, Isaiah was never given the name Captain America since Steve's Cap existed at the same time, but he was in a similar costume and fighting the good fight for this country. Isaiah is the grandfather of Elijah who is now the Young Avengers member known as Patriot.
Referencing the wonderful website of the Museum of Black Superheroes (
http://www.blacksuperhero.com
), there's a user-friendly way to look up heroes from Marvel, DC, Image and Milestone as well appearances in TV, film and video games. There may be some reader interpretation as to "how black a black character is" giving that Black Adam, an Egyptian man is on their list of black DC superheroes. I wouldn't have put Black Adam on this list but I supposed "dark" or "Mid-Eastern" has it's bearings on this radar to some.
To me, the first character of the DC universe that comes to mind is my favorite Green Lantern, John Stewart. Everyone says Hal Jordan when asked which GL is their favorite, but me, I know Stewart because I love the Justice League cartoons. I also love his history as a US Marine. There's an episode in the JL series where John's ring is out of juice and he has to rely on his old Marine skills to get him through the battles and still save other people. When the series expanded to Justice League Unlimited, viewers also introduced to Mr. Terrific, the only super genius human who can be a substitute for Martian Manhunter up in the Watchtower. Other well known characters in the DCU are Steel and his niece Natasha, Cyborg from Teen Titans and Bumblebee.
Crossing the rift to Marvel, X-Men's noble character Storm is the first one I think of and the fact that she's a powerful female as well just makes her even better in my opinion. Too bad she doesn't get a lot of the attention in storylines that she deserves. Recently, Storm became a little more apparent when she wed another strong black character, the Black Panther which has escalated her to a Queen in Wakanda. The diverse population of the X-Men has always allowed for storylines addressing racism in the form of mutantism, but at the heart, there are figures who have to deal with both. Besides Storm, another very popular character of that universe is Bishop, the black mutant known for his "M" tattoo that was branded on him in a mutant relocation camp.
Marvel's Civil War and aftermath thereof gave readers an inside look at vigilante fighter Luke Cage (formerly known as Power Man). We got to see Cage inside his home with his family where he worried about very real dangers on a more local level as opposed to the global war other superheroes faced. According to imdb.com, Tyrese Gibson is possibly slated to play Cage in an upcoming film directed by renown director John Singleton; rumors have also circulated that Cage may be played instead by Michael Jai White who played Spawn in the film adaptation of that character and has voiced several characters from Doomsday in JL to Osebo in Static Shock. Luke Cage also touched the heart of actor Nicolas Cage who changed his Hollywood-heavy Coppola last name to that of a character he thought of fondly.
So getting back to having costuming options available for black children, we can start with a basic list of fan favorites: John Stewart/GL, Static Shock/Virgil Hawkins, Patriot and even Spyke (from X-Men Evolution). At the very least, this would introduce families to these characters and bring more African-American readers into our comic book cult of geekdom.
---
02/10/08
Two scans sent by Roger
---
02/08/08
Another scan sent by Roger
---
02/06/08
And now, it's time for the Captain!
Captain Fatman's Corner
This month's column from Brian James and Capt. Fat man with Beth is brought to you by the letter K and Crown Royal Whiskey.
So far the New Year has been going good for the ol'fatman. Myself and Tom the Bearded Wonder went and seen the fabulous David Bromberg play at the Opera House in Wilmington Delaware with Jorma Kaukonen. David has released a new album
Try Me One More Time
. A great selection of folk music and guitar plucking. If your into folk music or just awesome guitar playing then check out this album it is a must have. The Opera House was a beauty in design and the artwork covering the walls. Also, they had a bar. 3 dollars a beer but considering what they charge at large venues for the sweet nectar of life it is not bad. The show was done all in acoustic guitar. After the show the Fat-man and his drinking buddy Tom went backstage for a nice chat with Bromberg. David is as nice as his guitar playing. Which is phenomenal. David signed some of my old album covers for me and we had our picture taken with him. It was a great night for me; I am a geek at heart and love meeting my idols in the comic world as well as music and movies. Some of my idols I have met over the years I have become good friends with. Believe me if you're a geek like me you'd get a kick out of getting a X-Mas card's from Carmine Infantino, Jim Steranko and other comic legends. Anyway, back to the concert if you live in the Philly, Del, south jersey area and you're in the Wilmington area then check out the opera house you'll be impressed at its beauty and history.
I have been immersing myself into
X-Files
lore since I heard a new movie was being made. Revisiting this show, seasons 1-9, the movie and the
Lone Gunmen
very short lived series was refreshing amid the lack of good shows on the air now. Of course some episodes weren't great but as a whole the X-Files was a cult classic like the original
Night Stalker
show with Darren McGavin. One of my all time favorite shows. I can't wait to see how they bring Mulder and Scully back into the FBI and facing monsters and aliens again. I haven't been this excited about a movie coming out since the first Batman film back in 89.
I just finished reading
DC: The New Frontier
by Darwyn Cooke and Dave Stewart. Vol. 1and 2. Now I admit when it first came out as a mini series I never read it. Had no desire to but with the release of the cartoon movie based on it I figured what the hell I'll give it a shot. And boy am I glad I did. It had everything I miss in comics today that was there when I was a kid. It had super suspense and true heroism. Super Hero's doing good and not sullied by today's dark look on life. Get out there and read these books. Yes it is costly 20 bucks a volume but I am sure you can get them cheaper at amazon.com or half.com or check your local library a lot of them have been carrying graphic novels these days.
The drink of the month is Alabama Slammer. I had this a couple of days ago. What you need is :
1 ounce of sloe gin
1 ounce of southern comfort
1 ounce of triple sec (non flavored)
1 ounce of Galliano
6 ounces of orange juice
Place the booze in a shaker with ice and either pour in a rock glass over ice or do as shots. Either way a couple of these and you'll be feeling them.
As always any questions can be sent to
askcaptfatman@yahoo.com
See you next month
---
02/03/08
Check out these sneak peek scenes from "Penance : Relentless" issue #5
The fourth and last (for now) scan taken from "James Bond : Serpent's tooth" sent by Roger
---
02/02/08
The third scan taken from "James Bond : Serpent's tooth" sent by Roger
---
02/01/08
The second scan taken from "James Bond : Serpent's tooth" sent by Roger
And now check this new cover from "Captain Action" issue #0, sent by Dave, and Renaud sent me the link to the official site!
---
01/29/08
Here's a mail that Renaud, from Quebec Canada, sent me last week :
Roger sent me four good scans from "James Bond : Serpent's tooth". Check the first one :
---
01/27/08
Everyone needs to watch this : www.zeitgeistmovie.com
---
01/22/08
Here's a few words from Paul :
Greetings!

Happy 2008, everyone.



This letter has been long in coming, so, let's cut right to the chase. As I write this, I will soon be wrapping up issue #5 of the Penance: Relentless series. The word is that it will be collected into a trade paperback very soon. Other books you may have missed that I worked on from Dark Horse will also be collected. Those titles include Dark Horse Heroes under the Omnibus line which includes a Barb Wire story I pencilled on the stands now and Terminator: Secondary Objectives also due out very soon. The original cover painting featured on Terminator done in the past will be used once again on this new series I'm told.

Also, from Dark Horse, make sure you check out the collected Star Wars Crimson Empire which is now out as a handsome hardbound. A real must for Star Wars fans and a very impressive story penned by Mike Richardson and Randy Stradley. I did the pencils. Recently I teamed up with my old pal Doug Moench on a couple of things of interest. No, we're not teaming up on anything new, but, we are giving everyone an opportunity to see again or for the first time, some stories from the past we've worked on a really cool site called www.wowio.com. Six From Sirius, Sci Spy, and a horror story that will make your skin crawl to name a few. It's worth a look. You'll also find many others of your favorite creators as well.

If you want to hear Doug and I take a trip down memory lane and reminisce on our days of working on Master Of Kung Fu in a kick-ass interview, then you'll have to pick up the current issue of BACKISSUE #26. Also included is an array of artwork by your's truly, including Shang Chi, Leiko Woo, Nick Fury, The Yellow Claw and more. If you're down with the spy genre in comics, then jump on this magazine. A tip of the hat and kudos to publisher Mike Eury for giving us the opportunity.

Hey, if by some strange quirk of fate you haven't seen Steve "The Dude" Rude's book Art In Motion, you're missing out on a very gorgeous collection of the Dude's finest. He's one of the great ones. Fantastic art, text and narration. If it sounds like I'm doing a lot of pluggin', it's because I am. And I'm not done.

People are asking me what's up after Penance. The fact is, I can't tell you. All I can say is that it involves I big name writer and it's for Marvel. I swore an oath to my editor.

Those same doggone people are also asking me what conventions perhaps I'll be attending this year. So far, look for me at the Emerald City Con in Seattle on May 10th and 11th and San Diego where after 30 years in the biz, I'm finally a guest. Holy #@%$*, Batman!

That's it for now, folks. Before I take off, I want to thank our fine website contributors starting with Roger Clark, Beth, Keif Simon a.k.a. Captain Fatman, Dave Lemieux, Laurie Kronenberg, and Renaud from Quebec, Canada.

I also want to give deep thanks to my friend Matt, the gatekeeping Webmaster who makes this site operate and possible. I'm not sure if any of you are aware that Matt lives in France. He knows a little English and I know very little French, but, we manage to make it happen. For what it's worth and what it is, it's the best we can provide from two very busy men. And now one being a new dad. Be sure to send your congratulations to Matt and his wife Anne-Sophie on the birth of their son Paul in November the 14th. lol. I love it!

Till next time,
be good and don't let the snakes in the grass drag you down.

Paul
---
01/17/08
Beth's column
I watch a whole lot of television. I feel the need to explain that right off the bat. However, I tend to watch things are popular only in certain circles. I don't watch 24, CSI, or Lost. I gave Lost a chance but the only thing I liked were the characters which wasn't enough to bring me back week after week. So what does a TV whore watch when there's a Writers' Guild strike? Even the Golden Globes weren't aired yet they were awarded. Here are some suggestions to keep yourself occupied this winter:

1. Monk - This is by far my favorite hour-long show on the air today. I was lucky enough to receive the first four seasons on DVD for Yule. The new episodes began on January 11 and run not only in their Friday time slot but again over the weekend a couple of times so any fan should be able to find a time that fits into his/her schedule if you don't have one of those fancy DVRs.

2. Psych - This is another great USA show about the escapades of Shawn and Gus. Shawn grew up with his strict police officer dad who trained him in reading environments and people to seek out the truth. Shawn uses that skill to pretend to be psychic and work as a consultant for the Santa Barbara Police. Gus is Shawn's best friend since they were kids. He is the straight-laced counterpart to Shawn's carefree verve. Gus can cut loose especially when Goldschlager is involved as we have learned from the first episode of this new season.

3. Terminator: The Sarah Connor Chronicles - It may be too soon to tell if this show has what it takes. After seeing only the first part of the premier on Sunday (the regular time slot is Mondays), the show has a lot of promise. John Conner (Thomas Dekker) is high school age and Cameron Philips (Summer Glau) is a Terminator sent to protect him. Sarah Connor is played by Lena Headey who gives an authentic performance of the character crafted so well by Linda Hamilton. Headey caught my attention as the Queen in Frank Miller's 300. Here she uses an America accent believably and brings a bit of a softer personification of Sarah to the screen. The plot picks up after the second movie. With the franchise making an appearance in comic books now, there may be a decent resurgence of interest.

4. American Dad! - This animated series is a great escape from all the political pressure of the campaigns. Stan Smith is a lovable conservative who draws his CIA-issued pistol every time the doorbell rings. If you're sick of the news, the bickering, the debates and polls and still want to feel some pride in America, then check out American Dad! on FOX.

5. American Idol - I don't know if I'm ready to keep my attention on this show for another season. Typically I don't watch it until all the goofball stuff is over. I don't like it hogs the airwaves and takes up two nights a week. I'm sick of Paula Abdul and Randy Jackson. I just want to see the performances of the contestants and not lounge singers from sixty years ago. Plus I'm still bitter that Blake beat out Melinda for the second place spot.

---
01/16/08
Captain Action is back!
And now, it's time for the Captain!
Captain Fatman's Corner
This month's column is brought to you by the letter R and miller lite beer.
Happy New Year boys and girls, Captain Fat-Man here with another column of stupid crap that I feel like boring you with. Brian James is still busy doing god knows what, but I am sure it involves booze and strippers and is illegal in most states. And Beth will be along with real reviews of comics. Now let's get into this months column.
First off I saw several movies that I enjoyed. I am Legend with Will Smith, Alvin and the Chipmunks no; I'm Not There the movie about Bob Dylan. Let's go in order. I am Legend has two things going for it. Will Smith and a cool ass German shepared. Set in the future where earth has been infected by a man made virus turning the population into night creatures who feed on flesh. Smith is the last human in New York and with his dog try to survive and find other survivors. I won't go into the story line more then that because I don't want to give anything away but check it out there's a scene in there that broke my heart and if it doesn't bother you then you have no soul. I give legend 5 out of 5 beers. The second movie is Alvin and the furry guys. Great kids movie and if you were a fan of the 80's cartoon you'll get a kick out of this holiday movie. Alvin, Simon and Theodore seem real, more real then some live actors I have seen lately. I give it a 4 out of 5 beers rating. Lastly is I'm Not There 6 different actors portraying a part of Bob Dylan's life while treating them as separate entities with their own names. Cate Blanchett is awesome as the late 60's version of Dylan and the black kid, who I have no idea what his name is, plays a pre teen Dylan who is great and if he really sang them songs look for him in the future he has a knack for folk music. I especially liked the scene where he plays with Richie Havens on a porch. You can't go wrong with Havens. I saw him play at the Philly folk fest years ago and man he is awesome. If you never listened to his music check out a best of album you won't be sorry. I'm Not There is definite 5 out of 5 beers but if you don't like Dylan then don't bother.
Music I have been listening to is a bunch of David Bromberg, Arlo Guthrie and his dad Woody Guthrie. Bromberg is my favorite guitarist. Man he can pick a blues or a folk song and just make it sing. David has a new cd out, Try Me One More Time, which has been nominated for a Grammy. I truly hope he wins. Check out his music you'll love him. Any album will do but live he is great check out How late'll play vol 1 or 2 cd. I have mine on album, shows you I am old huh? Arlo Guthrie is a second generation folk singer who's father Woody gave us great song that every school kid knows. Woody's most famous song is probably This Land Is Your Land. Arlo has given us such great classics as Coming into Los Angelis, Alice's Restaurant which is a must listen to every thanksgiving. The best 18 minutes of your holiday. I have listened to this song on thanksgiving since I was in diapers. Arlo also does the definite rendition of Steve Goodman's City of New Orleans. I have seen both Bromberg and Guthrie live in concert many times and I try to see them every chance I get when they are in the area. If you're a fan of folk music or blues you can not go with seeing these guys live at least once.
Books I have been reading are American Gunfight by Stephen Hunter. This book is about the attempted assignation of Pres. Truman. On November 1st 1950 by two Puerto Rican natives. A gunfight broke out amongst these men and 3 white house police and one secret service member. Which is even more amazing is all of this is true yet seemed to disappear from the history books. Also I'm reading Woody Guthrie's autobiography Bound for Glory. How he rambled across the country in the twenties and thirties and wrote songs against the treatment of workers and everyday folk during the dust bowl and depression. Comics I am reading besides the usual is Showcase presents Brave and the Bold vol2. Batman team-ups. Seventeen bucks for 500 pages of great comic books is worth every penny with art by Nick Cardy, Neal Adams and Jim Aparo (my favorite batman artist after Carmine Infantino.)
The drink of the month is a Lemon Drop
4 ounces of fresh lemon juice
2 shots of vodka
1 teaspoon of sugar
1 sliced lemon
4 sprigs of fresh mint
In a shaker pour in lemon juice, vodka and sugar shake until sugar is disolved. Then pour into rock glasses filled with ice garnish with slice of lemon and mint sprigs. Now onto answering some of your questions that you have asked at
askcaptfatman@yahoo.com
First is from George in Ohio
No I am not retarded but yes I do have a drinking problem. The problem is when I can't get my booze on a daily basis.
Second is from Karen in Mississippi,
Brian James is a real person and one hell of a party animal. You can send him a pair of your panties but I don't think his wife would like it. To the second part of your question Brian's favorite food is sushi. Don't ask me why he just likes that crap.
Next question is from mark in New York,
Yes I really am fat. My shirt size is balloon. I hate wicker furniture and booths in pizza hut. And yes I will answer a personal question there is a mirror on my bathroom floor in front of my toilet so I can see my wiggy. Now my question to you is why the hell do you want to know that???
The last question for this column is from Alice in Massachusetts,
Sorry Alice, but I can't give you the pin number to Brian James debit card because I don't have it. As soon as I get it and take some money to pay my bar tab I'll let you know. That's all for this month kiddies but keep the questions coming
Tomorrow, it's Beth's turn!
---
01/15/08
Three pages taken from "Penance : Relentless" issue #4
---
01/14/08
Dave just sent me that :
Hi Matt
Attached
is the cover to Back Issue # 26 which is due out this Wednesday January 16th. This should be a great issue. It will have interviews with Paul & Doug, articles on their MOKF & James Bond comics and a Gulacy art gallery. Wow. I can't wait to see it!
Dave
---
01/13/08
In two days, the fourth issue to "Penance : Relentless", will be out. Don't miss it!
---
01/04/08
Dave just sent me that :
Hi Matt

Happy 2008 to you also! I hope you are doing well.

By the way, I wrote a 6 page article for Back Issue # 26 (due out on January 16) about Doug Moench & Paul's planned Shang-Chi/Nick Fury crossover in the 1970's which never occurred. It would have been awesome, of course, if it had happened. I included many quotes from both Paul & Doug, and there will be lots of Gulacy art to support the article. It's included under the "Greatest Stories Never Told" category which is a semi-regular Back Issue feature. I had lots of fun writing it & I'm hoping that the readers will enjoy it as well.

That issue also includes a NEW "Pro to Pro" interview with Paul & Doug which was conducted by Dan Johnson. It reportedly includes lots of discussion about MOKF. I'm looking forward to that one myself.

Dave
---
01/01/08
A message from the webmaster :
---