Old Updates
This is the year 2007 old updates of the site. To see the lastest news click here.
---
12/17/07
And now a word from our new member and friend Beth who will give us her cutting edge awesome takes on the world of what's cool and what's not.So,listen up people.
Beth's 2007 Favorites

Cartoon - The Batman, Kids WB - this season the Dark Knight, Batgirl and Robin team up with familiar faces like The Flash, Martian Manhunter, and Superman. This year has been quite lacking in the cartoon department. I was a huge fan of The Life and Times of Juniper Lee, Foster's Home for Imaginary Friends, and The Batman but since others have run their course, I've got only two solids for 2007: The Batman and Legion of Superheroes from the 31st Century both on the Kids WB Saturday morning lineup. Occasionally I'll wonder back to Cartoon Network to catch Ben 10 too.

Cartoon episode - Legion of Superheroes from the 31st century "The Man From the Edge of Tomorrow," Part I & II: The team is faced with their most ruthless foe Imperiex; a cloned Superman from the 41st century with different powers than the old Superman (of the 21st century) and has DNA fused with Kryptonite to eliminate his weakness; he joins the team as Kell-El and has to learn how to become a team player; tragedy strikes as Triplicate Girl faces the loss of one of her images and becomes Duo Damsel.

Song of Year - Red Jumpsuit Apparatus "Face Down" - Somehow this band took the subject of a woman being abused and by singing from the point of view of another man screaming at the jerkhole responsible, they've pulled off a number one hit.

Breakout Band/Artist of the Year - Blue October - There is no "one genre" for this band and in their own words "… shove it under old-new or call it rock or pop or Bach or fuck, Goddamn where did we go wrong, Now there's a category for every song"… Justin Furstenfeld has more range than most rocker male leads which listeners should give a chance; if at first you think he's just screaming because you've caught a few seconds of "Drilled a Wire" (Foiled, 2006) then you need to skip through the tracks to a peppy tune like "Clumsy Card House." Sure, Foiled was released in 2006 but songs like "You Make Me Smile" and "Hate Me" only became featured on mainstream radio in 2007. Lyrics have never been so emotionally moving. For fans of Evanescence to Pearl Jam, Blue October rocked through the airwaves breaking the cult barrier to mainstream acceptance in 2007.

Favorite Movie of the Year - Live Free or Die Hard - Having low expectations for a fourth installment of my favorite movie franchise probably helped me love this movie. I had faith in Bruce Willis being able to pull off another rocking Die Hard movie despite his aging body and hair loss. As far as the franchise goes, this one is second best in my book. Regarding Justin Long, this geek has had my attention since Galaxy Quest and Dodgeball. Then he grew up and started breaking geek hearts in his Mac vs. PC commercials where he gives audiences a more intelligent version of Keanu Reeves. If Long can do for his body what Ryan Reynolds did and beef up some muscles, then we may even see him in more of a leading role in a action movie some day rather than plucky nerd sidekick.

Best Movie Scene - It's hard not to reward the Weasley twins for their ballsy move in quitting Hogwart's and blasting up the joint in a rebellion against Headmistress Dolores Umbridge in Harry Potter & the OotP but the winning scene has to include better explosions and that's why Live Free or Die Hard where McClane (Bruce Willis) and Matthew Farrell (Justin Long) dodge explosions in a traffic jammed tunnel is a memorable moment in 2007.

Worst Movie Scene - With three Comics' leading men breaking into dance this was a tough choice but the winner is Peter Parker's piano playing/dance sequence in Spider-Man 3; other contenders included Mary Jane and Harry's cooking/dance sequence to "The Twist" in Spider-Man 3; and let's not forget Mr. Fantastic dancing at his bachelor party in Rise of the Silver Surfer.

Best TV Show - USA Network's Monk still holds first place me. Season after season, Tony Shalhoub (Exec. Prod. & star) delivers episodes with unique modus opperandi for murder and mayhem. Mr. Monk and the Man Who Shot Santa was my idea of holiday fun. Other notable shows during the main fall season and the summer/winter breaks that I hate to miss are: Psych, Heroes, Ghost Whisperer, Supernatural, My Name is Earl, Bones, Reaper and Saving Grace.

Favorite British Invasion - BBC's drama, Jekyll starring James Nesbitt and featuring Michelle Ryan (Jamie Summers on America's new Bionic Woman). It's amazing how such a small transformation can make someone look completely different. People have joked for decades about how Superman's disguise of eyeglasses and different hairstyle couldn't possibly fool anyone but the truth is, it probably would. The old Spencer Tracy full length feature film of the Jekyll and Hyde story is another example where subtle changes can be the most disturbing. So forget about the CG abomination in Van Helsing and turn to BBC's Jekyll to see how it's really done.

Favorite American TV Episode - There are several Monk episodes that featured wonderful guest stars that are memorable TV moments, like Mr. Monk and His Biggest Fan (Sarah Silverman) and Mr. Monk and the Rapper (Snoop Dogg); but for sheer geek factor, Bones' "Mummy in a Maze" gets the honor of favorite episode. The Jeffersonian forensics team with FBI partner Seely Booth dress up for Halloween when a body is discovered in an amusement park maze; the cast are dressed up with some poignant costumes: Bones as Wonder Woman, Cam as Catwoman, Booth as a lab squint, Angela as Cher, Hodgins as the Captain of the Titanic, Zack as the back end of a cow; There's a debate between Bones and Cam as to who would win in a fight, Wonder Woman or Catwoman; then during the final battle with the villain bullets ricochet off Bones' Wonder Woman bracelets and she even gives us a twirl at the end.

Best BBC America Episode - Torchwood's "Captain Jack Harkness" which features one of the best man-on-man romantic moments in TV history, it was done with such poetic flare that even the most homophobic people could forget that it's two men kissing. Romance and regret fill this episode to the brink.

Best TV Scene - Heroes "The Line" - Fans finally see first hand just how far HRG will go to protect his family when he shoots an old colleague.

Best Comic Book Title - Because of its unique style in storytelling and imagery, Mouse Guard is the winner for 2007. David Peterson has created a world so rich and full that it could be considered the comic book version of Tolkien's universe. Other contenders are: The Umbrella Academy, Silver Surfer: Requiem, Superman/Batman, Detective Comics and The Green Lantern Corps.

Best Comic Book Issue - The Assassination of Captain America (Captain America no. 25) made headlining news not just on the internet or just in geek communities but in mainstream American media. This was a tragedy that surprised fans and retailers alike. Steve Rogers is gone and Marvel is currently working on his replacement with a new re-designed (and butt-ugly costume) Captain America. My other favorite moment of the year was when Kyle Rayner becomes Parallax and his the story told from his point of view in his Tales from the Sinestro Corps mini-series.

Comic Book Artistic Team of the Year - My classic favorites are Terry & Rachel Dodson (Wonder Woman) but their work might not stand out enough to gain the position of Best of 2007. Instead I would reward the team from Detective Comics: Don Kramer, Wayne Faucher, John Kalisz, and Simone Bianchi for their noir style which perfectly accompanies the gritty tales Gotham City as told by Paul Dini. This team is the opposite of the Dodsons when it comes to color and focusing on what makes a panel interesting. They've managed to bring to life scenes that appear black and white but are really full colors by John Kalisz. Maybe it's the amazing b/w covers that trick my mind, but whatever it is, this team has been rocking the tales of Batman all year. Other notables are: Paola Rivera (Mythos: Fantastic Four), Sean Phillips/Arthur Suydam (Marvel Zombies), David Peterson (Mouse Guard) and Eban Ribic (Silver Surfer: Requiem).

Comic Book Writer of the Year - I can't be cliché and automatically declare Brubaker the winner just because he killed Captain America. Instead, the winner is a newcomer to the commercial comics scene: Gerard Way with his original series The Umbrella Academy. Way has a deep background in comics and cartooning that most fans never knew of. He is the front man for the alternative punk band My Chemical Romance and comics fans questioned whether there was anything he could possibly bring to comics hiding behind his blackened eyes. Well, surprise, surprise, surprise - Way hooked up with a great team at Dark Horse Comics and has let his imagination tell the tales of some special children who grow up developing their superpowers. According to interviews, he's got enough material to sustain a twelve year lifespan in comics already and that's if he stopped writing and drawing today. His counterpart Gabriel Bá has constantly been compared to Mike Mignola this year and that's not a terrible thing. It's an exaggerated stylization of anatomy, whether human, robot, or gorilla, that makes his work eye-catching and loved by fans. Together they are a great team but it wouldn't be anything but pretty pictures if it wasn't for Way's bizarre story about a family as dysfunctional as my own.

Hot Chick of the Year - These are almost too plentiful to choose from. Basing the decision purely on hotness this year's winner is Michelle Ryan (Jekyll, Bionic Woman). Other notables are: Mary Elizabeth Winstead (DeathProof, Live Free or Die Hard), Hayden Panettiere (Heroes), Zooey Deschanel (Bridge to Terabithia, Weeds, Tin Man), and Missy Peregrym (Heroes, Reaper).

Hot Guy of the Year - Like the ladies, hot guys were not in short supply this year. Even geeks were hot so they got their own category. The winner for 2007 is Bret Harrison (Reaper). Other contenders: Tobey MacGuire (Spider-Man 3), Chris Evans (F4: Rise of the Silver Surfer), Shia LeBeouf (Transformers), Topher Grace (Spider-Man 3), Orlando Bloom (PoTC 3), Johnny Depp (PoTC 3), James Marsden (Enchanted), and Milo Ventimiglia (Heroes).

Hot Geek of Year - It's a tie with James Roday and Dulé Hill both from Psych. Maybe they have no real geek cred yet but their characters Sean and Gus debate over the batmobile, have attended a con where they infiltrated the George Takei camp, and asked fans to submit sketches to their myspaces (yes, the characters of Sean and Gus have myspaces). Plus the new season will bring animated shorts of young Sean and Gus. Other geeks to be loved: Michael Cera (Superbad), Seth Rogan (Superbad), Jon Heder (Blades of Glory), Kevin Pereira (host of G4TV's Attack of the Show), and Tyler Rabine (Reaper).

---
11/30/07
Captain Fatman's Corner
This months column by Brian James and Capt.Fat-Man with Beautiful Beth is brought to you Grey Goose vodka and by the letter q.
Happy Ho Ho, well it's time to go into debt and get things for people that they really don't want, eat to much cookies and cake and getting ready to party on new years then make resolutions that no one will keep. Christmas is a true family Holiday and this year I bought both my brothers the first 2 seasons of the TV show Titus. Titus is about Chris Titus and his dysfunctional family. A hilarious show and what made it even funnier was it was all based on truth.The show is based on Titus's Norman Rockwell is Bleeding comedy special on Showtime which the comedy channel replays time to time.the series was taken off the air after 3 seasons because it was so over the top and made you think, which made TV executives scared.
Episodes were about sexual harassment, abuse in a relationship, schizophrenia, and having to pull the plug due to a coma but it was all done in a way that it was funny as hell but still made you think. Stacy Keach plays Titus father Ken, a 5 time divorced beer drinker who shows his love for his kids by berating them.Zack Ward plays Dave, Titus' brother who is hilarious.I cry from laughing when watching him.A neat little side bar, Zack Ward played the red headed, braces wearing bully in every body's favorite holiday show A Christmas Story. Growing up in a dysfunctional family myself my brothers and I can relate to a lot of the antics in the episodes. If you lived in a household growing up that wasn't like the Brady Bunch you'll get a kick out of the comedy genius of Chris Titus. The box set runs roughly 25 dollars for season 1 and 2. Season three runs about the same. season 3 is just as funny with episodes on suicide,molestation, giving birth. Yes i know, you must think I am a sick bastard for finding humor in these topics. But, if you see the show you will laugh just as much as I did if you even have a shred of light heartiness in your soul.
Also this month The Simpson Movie comes out. If you love the show then you'll love the movie and even though the scene with Bart got a lot of publicity that's short scene is nothing compared to the many, many other laugh out loud moments. As with the show, no matter what wacky stuff goes on in Homer and his families life they are a family and stick together at the end.From the beginning credits to the end title this is a pure family pleasure. Now if you are not a fan of the show then don't watch.You'll think it sucks.
Mythos:the art of Frank Brunner is out. Frank Brunner, besides being a friend of Paul's and myself, is another comics legend of the 70's with his Dr.Strange stories and who can forget the great Howard the Duck he helped co create.Mythos showcases his work in not only the comic world but also his fantasy work. As a side bar, there's a short interview of Frank in the book by our own Brian James. The art in this book is beautiful and every page just shows off franks talent.A perfect Christmas gift. I'm going to wrap this up early the ice is melting in my vodka gimlet made with Grey Goose Vodka. (there's my advertisement plug) The drink for this month is the Christmas Nutcracker since the musical is shown every holiday i figure the drink would be a perfect fit.
The Christmas Nutcracker
2 oz. Amaretto
2 oz. Irish cream
2 oz. Kahlua
2 oz. Vodka
Put into a shaker with ice. shake the hell out of those precious liquids and pour into a rock glass with ice. Put on a Dean Martin Christmas albums and relax.
This is the time of year to be in the giving mood so stop by your local animal shelter and donate old blankets and sheets to keep our furry friends warm this winter or drop off a bag of dog and cat food to help with feeding them. The people working at those shelters are mostly volunteers and put a lot love into the pets no one wants. Your generosity is always appreciated and welcome there.
As always my partners and I can be reached at
askcaptfatman@yahoo.com
for more info about any topics we mention or drink recipes and party tips.
---
11/25/07
Roger send me these three scans :
---
11/20/07
A message from the webmaster :
Jeremy, from Quebec, Canada, sent me this link a couple of days ago. But a great event in my life did not let me a lot of time to update the site...
But first thing first. Here's the link to get news for "The Terminator Omnibus Volume 1 TPB".
And this main event? Well, I'm proud to tell you that I'm a father since Wednesday, the 14th, 2007. It's a boy

, and his firstname his.... Paul! I don't have to tell you why I choose it!

---
11/12/07
Here's a message from Paul :
Here's Beth's Delaney review
Superman/Batman #40

Script by Alan Burnett

There aren't too many times that a reader can find a book so captivating that he or she is rendered motionless and speechless. A lot of people feel that way when reading about a crisis situation but it is deemed "feminine" to feel that way about romance or passion and our culture coins phrases like "chick lit" or "chick film" as a way of denoting that the subject matter is appealing only to women and therefore male critics should run screaming. If any of that is true then Superman/Batman issue 40 is some of the best chick lit ever published.

Although the story arc continues with a mind-controlled Superman facing off against his finest partner Batman, that part of the story feels secondary to the new love story forming between Batman and Bekka, wife of Orion. Without spoiling too much, Bekka does rescue Batman and reveals what the purpose of Superman's mind control is; Superman is needed to retrieve Highfather's staff from the Source Wall which is believed to be a tool that will give Darkseid back his omega powers (coming up in issue #42). Bekka hates her father-in-law Darkseid and her husband consistently leaves her alone. She rescued Batman to find a partner in her quest to keep Darkseid from returning to full power.

Batman fans have been used to his obsessive personality since he first appeared in comics. That obsession always seemed to be dark and desperate, circulating around his parents' murders. Fans have also witnessed Batman in complicated love relationships as well whether with Catwoman or Vicki Vale. However there is something glaringly different about this encounter between The Dark Knight and Bekka. His morals are compromised and for once he is seen as slipping over the edge of the physical and emotional control that he has perfected over the years. Batman throughout history was practically DC's answer to Star Trek's Mr. Spock – always in control and always several steps ahead of everyone else. At this point, Batman is questioning himself and longing for the touches of a woman that is not available to him. Readers are left in a captivating moment that will have them either breathless until issue #41 waiting to see what comes next or afraid of it because that means the moment of Batman holding Bekka will end.

Highlights:
·Batman is rescued by Bekka and becomes infatuated with her.
·The reason for Superman's mind-control is revealed.
·Darkseid's lack of power is discovered and the plot to gain it back it exposed.

Rating: 9/10
---
11/11/07
Here's a message from Paul :
Hey folks


Check out these reviews.Every month we'll be adding Keif and Beth on board to give us their takes on comics,movies,tv and much more. Your response is welcome.
It's the Brianjames and Capt.Fatman column. BrianJames the Zombie Killer is still on a secret mission for the goverment so your still stuck with my lame ass.Also this month we have a new additon to our team. Beautiful Beth will be reviewing recent comics hitting the shelves,i'd do it but my i'm to damn cheap. i just read them in the store and put them back on the shelf. I do my comic shopping at Stormwatch Comics in West Berlin NJ. if you also go there don't tell them i do it OK.
Well it's turkey time again and i don't mean Thanksgiving. I mean it's election time. and a great book to read this time a year is You Can Lead a Politcian to water But Can't make him Think by Kinky Friedman. Kinky is a musician, author and Texas icon. his politcily un-correctness is his music,with songs like They Don't make Jews Like Jesus Anymore and Get Your Biscuts in the Oven and Your Buns in the Bed. and hsi mystery novels which star himself as a modern day sherlock holmes and his real life friends as charecters in the books.Kinky, tired of the lies of both parties, ran for govener as a independent in Texas last year. he lost unfortuantly but his views and policies would have been good for his state and maybe some others in our country if they were adopted. This book tells of his run for office and is a great read both humorous and informative about texas politics.
I recently went and seen 30 Days Of night in the theater and loved it. based on the comic book by Steve Nile and ben Templesmith( sorry i don't go for this graphic novel crap it's a comic book fer crying out loud) the movie and book are about the town of Barrow Alaska where teh sun sets and doesn't rise again for 30 days. Vampires go and make the town their personal buffett where local sherriff eben tries to save the few survivors.The movie is awsome but the comic is so much better Steve Niles is a great horror storyteller and if you don't belive me read the triolgy written by him, Dark Days, and Return to Barrow finish out the tale of the Alaskan town and residents. read all three volums they run about 20 dollars a piece for the collected versions.
On Nov. 18th at the Big Appple Comic Con in new york city will hold a seminar by Jim Steranko. for 50 dollars you'll get not only the seminar but a free gift for attending. If you have never seen one of Jim seminar's then you have to try an make it they are very rare and may be one of his last that he is doing. for more information go to
www.bigapplecon.com
Also at thsi show will be comic legends Carmine Infantino and Dick Ayers two greats that are just great to talk to. Carmine will be selling his autobiography and the Vangaurd Publishing booth. If your lucky you maybe able for a extra fee get a book with a skecth by Carmine drain in it. Carmine doesn't do much skecths these days so it is great way to get not only a super book but have a piece of art by a true master.
Our drink of the month is a RED APPLE.after Thanksgiving instead of cider try one of these nifty cocktails to wash down the turkey.
1 jigger of sour apple schnapps
1 jigger crown royal
1 jigger cranberry juice
A jigger is 1.5 fluid ounces otherwise that tall skinny shot glass. Fill a shaker with ice and pour all three shots in it. shake well and pour in a tumbler on the rocks or a martini glass which ever you choose.
Well i got to run i'll talk to you next month, if theres more you'd like to know about what i wrote or otehr drink recipes write me at
askcaptfatman@yahoo.com
---
11/07/07
Renaud from Canada send me this link, check it out!
---
11/06/07
Three pages taken from "Penance : Relentless" issue #3
---
14/04/07
The last Black and White scan sent by Roger
---
10/31/07
Another Black and White scan sent by Roger
---
10/29/07
A message from the webmaster :
Well, well. I did move, and I already have access to the 'net!! So let's take a look a some pages taken from "Penance : Relentless" issue #2. And look at this scan sent by Roger.
---
10/28/07
A message from the webmaster :
I'm moving to a new flat tomorrow. I don't think I'll be able to update the site for a week or two.
But before I shut down my computer, take a look at what Roger sent me :
I still have three more scans, but I don't have enough time tu upload them now...
See 'ya soon.
---
10/26/07
Renaud from Canada (perhaps even from Quebec!

) send me this link, check it out!
---
10/25/07
Answer :
...Marvel Comics Presents # 29 (from October of 1989). And why not? Paul's drawn so many celebrities in his stories, why not include himself. Check out the pedestrian in sunglasses giving Coldblood the "thumbs up" in Panel 6 of Page 20 as Coldblood is driving. That's Paul!
---
10/18/07
Dave sent me this cool piece of trivia :
Did you know that Paul drew himself into one of the Coldblood stories? It's true. He actually made a cameo appearance in...
The answer tomorrow!

---
10/12/07
Two pages taken from "Penance : Relentless" issue #2
---
10/11/07
A second Black and White scan sent by Roger
---
10/10/07
Another Black and White scan sent by Roger
---
10/03/07
And now ths second colored version of the fifth cover to "Penance : Relentless"
---
10/02/07
Take a look at the first colored version of the fifth cover to "Penance : Relentless"
---
10/01/07
Roger just send me these scan :
---
09/21/07
Take a look at the fourth cover to the "Penance : Relentless" mini-series pencilled and inked by Paul Gulacy and written by Paul Jenkins :
---
09/19/07
Roger send me these three scans :
---
08/19/07
Two more sent sent by Roger :
---
08/18/07
And now a sneak peak of five pages from Penance : Relentless :
---
08/12/07
And two more sent sent by Roger :
---
08/11/07
Take a look at the third cover to the "Penance : Relentless" mini-series pencilled and inked by Paul Gulacy and written by Paul Jenkins :
---
08/07/07
Roger here and Roger there! But who the hell is Roger?
Roger has loved and collected comics his entire life. He started collecting original comic art in the late 1980s and quickly fell in love with Paul's work when he saw originals from Master of Kung Fu and Blood on Black Satin for the first time. Throughout the 1990s and early 2000s he bought nearly every page of Paul's art he could find and eventually put together a collection of several hundred pages, ranging from Paul's first Marvel work in Fear through his most recent, perhaps the most comprehensive collection of Paul's work in the world.

Roger is recognized as a foremost Gulacy collector and often provides material for articles on Paul. Most notably, he provided many examples from his collection for the Vanguard Press book on Paul's work.

Roger and his wife retired in 1999 and live in southwest Colorado. He has a small website at Roger that sells original comic art, including some of Paul's work. He is in the process of providing a complete set of scans of his Gulacy art collection to Paul's website.
---
08/06/07
Roger send me new scans :
---
08/04/07
Check this cool drawing of Nick Furry and friends!
---
08/03/07
You saw the tenth page from "Legend of the Dark Knight" issue #140, now take a look at the ninth, thanks to Roger :
---
08/04/07
And now a scan from Paul himself!
---
07/31/07
And another one sent by Roger :
---
07/30/07
Roger send me new scans :
---
26/07/07
A message from the webmaster :
I have some problems to get my mails. So if you sent something and you did not get an answer from me, don't be upset...
Thanks
---
07/19/07
Roger just send me these two scans :
---
07/15/07
Roger send me the first three scans, and Henry the fourth one :
---
07/08/07
Roger just send me these two scans :
---
07/07/07
A message from the webmaster :
As every year, I'm gonna be selfish again. Sing with me
Happy birthday to you. Happy birthday to you. Happy birthday to you, dear webmaster. Happy birthday to you!
Thanks
And Roger just send me these scans :
---
07/07/07
Roger send me three good scans. Check them :
---
06/29/07
I just find this scan on the net. It's the black & white scan of the fourth #issue of "The Southern Squadron", from Aircel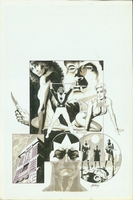 ---
06/28/07
Take a look at the second cover to the "Penance : Relentless" mini-series pencilled and inked by Paul Gulacy and written by Paul Jenkins :
---
06/05/07
Here's a few words from Paul :
Que' pasa, amigos?

By some strange quirk of fate, I managed to finally sit down and actually write an update note to you fine folks.

I've been getting many enquiring minds who want to know what happened to with Aquaman, Dr.Fate and Bad Guy Factory; all titles I've mentioned that i would be supposedly working on.

Aquaman sank like an old anchor. My suggestion of re-vamping the book and giving him a new costume, etc., hit a brick wall in Atlantis… or was that Dan Didio's office door? Anyhoo, it didn't work out.

I was really excited about Dr.Fate but there was a scheduling conflict on the monthly schedule and that flew the coop.

Bad Guy Factory written by popular novelist Tad Wiliams, well... after much hoopla suddenly the axe came down on that so fast one day that the wind nearly caused Joey Cavalieri, Tad and me to tip over even after I submitted thirteen character designs. The upshot--I did get the check. I did my part. Que sera, sera, I guess.

Well, the yellow brick wacky road of comics lead me back to Marvel and with many thanks to editors Warren Simons and Molly Lazer I landed a really exciting book which should pose a real fun challenge. This six-part mini series involves a fan favorite character named Penance. If you're into the Thunderbolts you know who and what I'm talking about. Paul Jenkins who writes like a mother@%@&$# will be doing the scripting. What he has so far, man, look out.

I'm in the process of wrapping up the first twenty-two pages of issue #1. Here's a peek at the first cover brilliantly colored by Laurie Kronenberg. Pages coming on the site shortly, so, check in if you have the time, friends. Til next time...

Cheers,

Paul
---
05/20/07
You like Johnny Depp?
---
05/15/07
Black Widow has now been colored by Laurie Kronenberg
---
04/30/07
Nick Fury and friends!
---
04/27/07
Here's a tyger style comic book cover created by Chris Walker
And another commission piece for collectors

---
04/25/07
Captain who?...........................

---
04/18/07
How about the Black Widow?
---
04/09/07
Now, it's Shang-Chi's turn.
---
04/06/07
Here is a fresh commission piece for collectors, Batman's back!
---
04/01/07
Thanks to Chris, who maintains this two sites, Paul has a Blog and a MySpace on the 'Net!
---
03/31/07
Some fixes has been made on "List Part 3" and "List Part 4" of Paul recent work. Thanks Gustavo.

---
03/26/07
A message from the webmaster :
I'll be out of town 'till the end of this week. Don't expect an update before friday night!
Matt
---
03/21/07
How about Black Canary?
---
03/20/07
Here are three more scenes frome issue #4
---
03/13/07
Here's a few words from Paul :
What's up,people?
Okay.I've been getting a lot of contact from folks inquiring about Dr.Fate and if I'm going to be the artist on the book.The answer is no.The reason is actually quite simple.Frankly, the schedule of Squadron Supreme : Nighthawk vs Hyperion collided with the time D.C. planned on launching the first issue of Fate.
Generally,publishers like a little elbow room on the schedule and a comfortable zone would be at least two books completed before the first issue hits the stands. We were nowhere near that, so therefore, sadly, I won't be doing the title. That's the bad news. The good news is that i was offered the opportunity to work with a very talented guy named Tad Williams. Tad is a hot commodity whose past work landed him on the New York Times Best Sellers List. Check out his site at
www.tadwilliams.com
The six part mini series we'll be working on is called Bad Guy Factory.You guessed it -- an underground organization that trains villains! Dig this -- characters and themes will be making their way into the D.C. universe. I read the outline and it is killer. More info coming soon.
In the meantime, I want to say that I do regret not being on board for Fate. He's a great character. Steve Gerber is doing the scripting and I've been a fan of his work for a long time. However, editor Joey Cavalieri assured me that when the opportunity opens up, the door is open to jump back on board the series. That's good news because I had ideas. Man, did I have ideas. So, in the meanwhile, here is the the second cover for DR. Fate!
Paul
---
03/04/07
Dave just sent me that :
Hi Matt
I checked out the website for the 2007 Granada Comic Con and guess what I found? You created an
awesome cover
for the program book featuring Shang-Chi (the 70's version) & Wonder Woman. Very cool!
Dave
---
02/25/07
A fresh Vampirella piece of artwork :
---
02/01/07
Sneak peek pages from Squadron Supreme : Hyperion Vs Nighthawk Issue #2 :
---
01/16/07
Here's a few words from Paul :
Hola Compadres!
Happy 007 everyone!
I know, I know. It's been forever. I hope everybody is doing well.
The world is in turmoil but I believe if we all pull together as a team to find harmony and stability we must stay numb and drunk on Ipods, movies, video games, Myspace, Youtube, comics, junk food, plasma t.v.s, etc., we can get through this. We'll find a new way forward.
Maybe not. I'm just saying, my friends. I have no answer, so, I'll leave it up to the New York Yankee great, Yogi Berra when he said -- "You gotta be very careful if you don't know where you're going, because you might not get there."
Anyhow, being locked into a four-part eighty-eight page mini series that I'm pencilling and inking doesn't allow me to feed the site as much as I would like. Part of the problem is I can't really show teaser pages from two, three and four if book one is not even on the stands yet. That's the dilemma. However, issue one of Squadron Supreme as I write this is in the shops and is selling at a pretty good clip. I got my copy by having the local comic shop here in Portland, Oregon hold a copy for me. Marvel sends freebies, but you never know when. So, as a result, I can give you a glimpse of some new sneak peak coming real soon of future issues.
I can't say enough about what a pleasure it has been to work with Marvel editor Warren Simons and writer Marc Guggenheim. This has been experience on a special series. If you're down with the "movies on paper" concept, we're here to please. Great storyline, cool characters and crisp, solid dialogue. Awesome colors provided by John Rauch and Jason Keith and continuing in the quality mode of the Jonah Hex realm.
Here is a glimpse of covers from issues two, three and four. More pages to follow as well soon.
As you know, the covers are always out of the gate first when beginning a new story. A solid image is mandatory. Sometimes it takes more than one cover idea before the final product. Here are two cover sketches for issue one that got axed.
While cranking away on Squadron, I've also been working simultaneously with Joey Cavalieri at D.C.
Steve Gerber, Joey and myself brainstormed over a new look for Dr.Fate and these are takes of the creative process that lead to a final look.
Dan Didio, Joey and Steve felt he needed an updated look. I went along for the ride. We're all happy with the result. A sleeker, simpler look with the helmet remaining the same. I put it in the hands of those guys in regards to a cover idea and everyone voted on wanting to go with a close-up helmet shot, so, this is our final cover design. Check it out.
I'll be again be doing the pencilling and inking chores with good friend and inking pimp Jimmy Palmiotti in the wings if there is a schedule conflict. My plans have always been and remain that i stay a free agent. I have a solid relationship with both Marvel and D.C. and out of personal choice I'll remain available to both companies.
Other News --
There are less than five phone carrier services in the U.S., but globally there are over one-hundred and seventy-five. Writers Doug Moench, Grace Randolph and myself are currently in negotiations with a company in Hollywood that wants to put "S.C.I. SPY" and "ShadowRacer : GO" on wireless phones as animated mini-movies that can be viewed around the world. Supposedly, the next huge wave. More news on this to follow as things tightens up.
Anybody remember "Slash Maraud", a mini series that Doug Moench and I created back in the 80's? Well, there is one fellow who does and that's wildman Ike Barinholtz, the regular cast member frsom MADTV. Ike dropped me a line to let me know that he was a big fan of the book and is showing great interest is seeing Slash move on to a new venue. I am too, so, I'll let you know what comes of this. Should be interesting. There was a lot to play with there. Tons.
It's too early to let you know where I'll be making appearances this year but for the time being it's
Granada, Spain in March
and San Diego for sure. Any news on other locations, you'll hear it here first.
Be good everyone and huge kudos to webmaster and friend, Matt.
Peace,
Paul
Webmaster speaking : I would like to thanks Marco for providing me the link to the Granada Comic Convention.
---
01/10/07
A message from the webmaster :
Paul's Macintosh crashed yesterday, due to a big storm over Portland. He ought to send me some stuff to post on the site. Well, it seems that you will wait a little bit more to see this cool stuff. Hang on!
---
01/01/07
Happy new year!
---

Website maintained by
Matt
Here's Paul's
E-mail address
Last modification September 16, 2012