Old Updates
This is the year 2006 old updates of the site. To see the lastest news click here.
---
11/25/06
A message from the webmaster :
George Sideris, if you read this, your e-mail address is not functioning anymore! Just send me another mail so I can have your new address!

Matt.
---
11/24/06
Dave just sent me that :
Hi again Matt & Paul
Check out this
cover to the TPB edition of Waterloo Sunset
by Image Comics which was just released this month. It was done by British comic artist Trevor Goring. Do you think he was influenced by the work of Paul Gulacy?
Man, this looks like a classic collage cover Gulacy style. (The book itself collects a 4 issue mini-series that was done by writer Andrew Stephenson with b&w art by Trevor Goring. It's about a futuristic London & earth during some bleak times & the challenges they face.)
Dave
---
11/15/06
Dave just sent me that :
Hi Matt & Paul
I picked up the Punisher TPB last week entitled "Punisher: Very Special Holidays" which includes a reprint of Paul's Punisher: Bloody Valentine One-Shot & what did I find...but that the first story in the TPB had Suspiria's 1st appearance. It was a one-shot called Punisher: Red X-Mas from 2004 which was also written by Jimmy Palmiotti & Justin Gray. Art was by Mark Texeira. Anyway, it was fun reading to see where the Suspiria character had originally come from. The story was not quite as good as the Bloody Valentine story, but it was interesting. Texeira's art was also a bit stiff in spots. I thought you might be interested in this piece of information.
Dave
---
11/08/06
Here's a few words from Paul :
Hola Compadres!
Hey, I recently got back from a great show down in Texas and that would be the Dallas Comic Con.Some of the guests included Steve Rude, James O'Barr, Ethan Van Sciver, Brian Stelfreeze, Mike Grell, Phil Noto and many, many more.
I had the pleasure of presenting my pal Steve Rude with a Lifetime Achievement Award. How he got one ahead of me I don't know since I've been in the business longer that him. Just kidding. He deserves it, just look at his work. A big shout out goes to the con manager and host Mark Walters, his partners Ben Stevens, Philip Wise and Anita. I'd go back in a heartbeat.
I have to clear the air on something .I know on this page that I've mentioned that I'll be doing the pencilling chores on Aquaman. Truth be told, that's not the truth. I had been graciously asked aboard by Dan Didio, but I felt I wasn't really cut out for the job. Primarily because I feel the character needed a re-vamp from top to bottom. D.C. prefers to keep things the way they are and I respect that.
As a result, through negotiations with Dan and editorJoey Cavalieri, my next assignment will be the artist on Dr. Fate with Steve Gerber doing the writing. I'm amped about this one. It could be very cool if we pull it off the way we're visualizing it. Jimmy Palmiotti and I will handle the inks.
Last month in Portland, Oregon where I live, writer Andy Mangels put together a wonderful fund raising auction event for a very important cause. You can read all about it here and be sure to check out the awesome contributing talent. If you're a fan of Wonder Woman, you'll be in heaven.
WWW.WONDERWOMANMUSEUM.COM/WWDAY_web/WWDAY.html
Also, before I take off,here are a couple of upcoming scenes from Marvel's Squadron Supreme: Nighthawk vs. Hyperion.
Talk again soon.
Be good,
Paul
---
10/29/06
Squadron Supreme Nighthawk vs.Hyperion sneak peak :
---
10/27/06
Squadron Supreme Nighthawk vs.Hyperion sneak peak :
A second pic will come in the near futur.
---
10/19/06
If you have some money left, check what's on E-bay right now!
---
10/12/06
What? An update already? Yeah! Check this fresh cover form first cover to marvel's new mini series of Nighthawk vs Hyperion written by Marc Guggenheim
---
10/08/06
Here's a mail from Dave :
Hi Matt

I e-mailed Paul the other day to ask about JSA Classified # 13 which listed both him and Jimmy (Palmiotti) as doing the inking. He reported that it was true and that he inked the last 7 pages. Those pages were #'s 16-22. Check it out. Apparently, Jimmy was juggling several other projects at the time & Paul was asked to ink those pages. Just a piece of trivia. Paul was also very pleased with how Jonah Hex #12 came out & he indicated that he really enjoying inking that story (as well as penciling it, of course).

Dave
---
09/27/06
A message from Paul :
Holly Crap, Batman!


It sure has been a long time since we posted up any exciting news. Way too long. Well, sometimes life throws those curve balls at us and in this particular case, it was a break up. As the song says, breaking up is hard to do, but as it turns out, all's well that ends well. Now in this case I'm not about myself, I'm talking about our webmaster, Biker Matt. Dude broke up with his chick and walked out like a man to begin anew.

In the meantime, I was waiting in the wings with lots of new things waiting to be posted up while Biker Matt had to break down his computer and move to a new residence. That's what took so long since my last letter and as a result, all this postponed any and all new info. It's all good and now we're rolling with back into the picture, so, let's get started.

Back in July at the San Diego Con, my partner Grace Randolph www.monkeysintheatrium.com, and I went about pitching our movie concept "Shadowracer : GO"


To anybody and everybody who may be interested in a very cool film about two hot sisters who race cars and through a series of events get involved in the dangerous game of global espionage. Response has been good and I'll follow up with more news shortly because right now, I don't want to jinx things.
There is also interest in two other comic series I've done, S.C.I.S.P.Y. and Six From Sirius being transferred to serialized mini movies on cell phone devices. The next huge wave of entertainment I'm told.
Lots of folks are always after me to do commission work but unfortunately my plate is full and I rarely get to do as many as I like, but, here is a little glimpse of work I've done for collectors along the way.
It doesn't hurt to give me a holler and if it's a business deal worth my while, we'll try and work something out.
There is a good chance that as I'm writing this, my issue of Jonah Hex #12 will be out in the shops along with Rough Stuff #2 that contains a huge interview along with tons of art, some never before published. Currently I'm wrapping up the first issue of Squadron Supreme. A 4-part mini series for Marvel written by Marc Guggenheim. This story involves a kick ass battle between Nighthawk and Hyperion. Here's a look, homies.
Some of you may recognize Marc's name as scriptwriter on such television programs as CSI: Miami and Law and Order. It's a kick working with this guy fo sho.
By some strange quirk of fate, before I could lift the phone to call my Marvel editor, I received a call from D. C. with an offer to be the monthly penciller on Aquaman. As I sit here, at the moment, it looks like that's the plan. I'm looking forward to it.
Before I head off into the sunset, it would only be fitting to show you photo of Biker Matt's new honey. Her name is Anne-Sophie.
Talk again soon. . ERRRRR. . . I mean SOONER.
Paul
.
---
09/26/06
Here's an interview on www.newsrama.com
---
09/17/06
A message from the webmaster :
Hi guys,

I'll be in Turkey for the next eight days. As soon as I get back from vacation, I'll update the site with some cool stuff. Believe me! Paul did send me a package full of wonders! But I have no time scanning all the stuff inside. It will wait a few more days...
Matt.
---
08/24/06
A message from the webmaster:
To let you know why the site is not updated as often as before, it's because I just break away from my girlfriend, here in France. So I had more pressing matter to settle than updating the site. Paul did understand my situation, and let me settle things. Now I'm back, and as soon as I get some news, you'll know it by visiting this page!
---
08/18/06
Just to wait fresh news, here's a scan of a sketch done by Paul for Sven-Hendrik.
---
08/06/06
Paul and I, do have news coming while I work out some personal stuff
---
07/07/06
Common, everybody sings with me : Happy birthday to you. Happy birthday to you. Happy birthday to you, dear webmaster. Happy birthday to you! Thanks.
---
07/03/06
Rough Stuff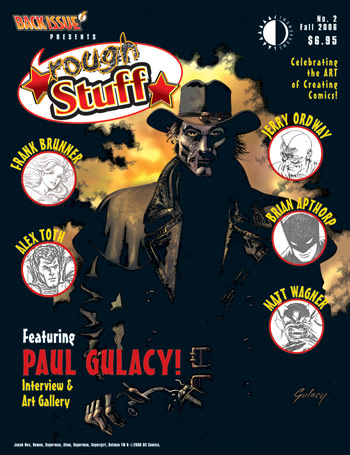 Issue number two of Rough Stuff will be out in October 11. This exciting issue will have a full gallery of new Gulacy art as well as an interview!
You can buy it in your local comic shops or pre-order it at twomorrows.com
Check it out!
---
06/17/06
A message from Paul :
Hi everybody,

It sure feels good to find the time to actually sit down and contribute some new happenings for this site. Sorry about the huge delay.
I want to start off by mentioning the great time had by all at the DETROIT MOTORCITY CON. This is a great midwest show. Huge crowds and a really impressive list of comic book creators and Hollywood celebrities. I had the pleasure to rap with actor John Saxon who starred with Bruce Lee in the classic martial arts film," Enter the Dragon". Very knowledgeable, down to earth, friendly guy. It was great opportunity to meet and greet all of the fans in the Ohio, Pennsylvania and Michigan region. I shared the Vanguard booth with none other than my good pal, Jim Steranko. What a showman. Forget about it. He's the best.
Posted up this time around are some scenes from the final JSA story I worked on with Stuart Moore and my amigo, Mr. Jimmy Palmiotti. This was a fun story.
I never was really familiar with the Vandal Savage character, but he was a kick to draw. I admit it was a bizarre story. Superheros like Green Lantern were never part of my forte', but I would work on these type of characters any day of the week. I love the challenge of breathing life into them. I hope we pulled it off. Our apologies for some of the coloring.
I'm currently in the midst of pencilling and inking another old favorite of mine from back in the day--Jonah Hex. Who could forget the array of talent that graced those yarns from the past including Ernie Chan, Tony DeZuniga and my man, Tim Truman. Classic stuff.
This is a one-shot with a possibility for more down the pike i'm sure. The offer is there. When I wrap up Hex, if all ducks are in a row and the plans develope, I dart over to Marvel to tackle a four-part mini series involving Nighthawk and Hyperion. Also in the air being discussed is a one-shot Ghostrider and another Punisher book. We'll make an announcement very shortly.
That's a wrap, folks. Keep those letters coming in. And as usual, a tip of the hat to Biker Matt who makes this all happen
Talk again real soon,

Paul
Here is a sneak preview of the exciting battle between Allen Scott and Vandal Savage in the climatic final issue of JSA Classified Issue 13.
And now, look who's in town, hombres! A cover concept of Jonah Hex!
In this story, Jonah puts his life on the line when he decides to protect a small group of Mormons stranded in a Idaho mountain blizzard who are being tailed by five really gnarly killers! Here are some intense scenes from Jonah Hex Issue 12...
---
06/13/06
At last an update! Here's a commision artwork in B&W
---
05/05/06
A message from the webmaster :
Hi guys,

I'll be in Canada for the next two weeks. So if you send mails, do not hope for a quick answer!
Matt.
---
05/04/06
Here is the cover to Contemporary Pictorial Literature issue #12. Thanks to Derek from Indiana for sending me this scan!
---
05/02/06
Here are some exciting scenes from JSA Classified issue #12.
---
04/20/06
A message from the webmaster :
Hi guys,

I just bought a new bike, so I was more on it, than in front of my computer, updating the site...
Please forgive me!
So let's take a look at two good pages from JSA
Matt.
---
04/09/06
A message from Paul :
Hello everyone,

Just dropping in to update and keep all of my army posted on what is going on in Gulacy Land. There are a few things stirring but let me start out by saying that a really unfortunate incident occurred a short time back.
For some time i had been advertised and promoted as a guest at the Gem Con in Dayton, Ohio on April 2. There developed a miscommunication on the flight plan and at the last minute i was forced to cancel. It was essentially a case of a simple last minute mix up. I want to take the time now to once again apologize to the host and all of the fans who may have been let down. Sometimes these things happen and i'm guaranteeing my appearence at the next show. Hands down.
My next convention will be in Seattle on May 7 along with special guests Ron Mars and Kurt Busiek. This has always been one of my personal favorite shows thrown by my friend Steve Minor, and has been attended by everyone who's anyone in the comic's field. Later this year, i'll be making appearances in Detroit, San Diego and Dallas.
Hey, I'm getting terrific responses from a whole bunch of JSA Classified readers out there. Thanks for your support, homies. It seems there is a huge following for one of fandom's most favorite villains--Vandal Savage. This is one big savage mother, that's for sure. Our story happens to deal with a very intense relationship that borders on phychotic hatred between Savage and Green Lantern that culminates in a ferocious battle like you've never seen. Don't miss this! There is talk going on a possible mini series that will involve a deeper look into the history and charactor of Vandal Savage. Nothing is concrete yet.
If you're a fan of Jonah Hex like i am, then I'm here to tell you that my next gig after JSA will be a Hex one-shot that i"ll be both pencilling and inking! Jimmy Palmiotti of course, doing the scripting. Can't wait to get into the saddle on that one.
Amigos, i agree with the breeze that by some strange quirk of fate, i may be spending more time at my old playground--Marvel.
There are some stirrings on some pretty exciting titles but i can't reveal anything until i get the green light from the editor. I'll keep you all abreast as soon as i get word. Okay, one hint...a sexy female character that lives in the jungle;]
Until then, keep your powder dry and i'll talk at ya real soon.

yer pal,

Pablo
---
03/30/06
JSA Classified issue #10, The Fall and Rise of Vandal Savage is out since March the 22nd. I'm a little late on this news...
---
03/18/06
Here's an interview on the Word Balloon website.
---
03/17/06
A sneak peak at JSA Classified cover # 11,The Fall and Rise of Vandal Savage. A four-part mini series written by Stuart Moore,art by Paul Gulacy,inks by Jimmy Palmiotti and colors by David Baron. Cover by Gulacy.
---
02/20/06
A few days ago, I got this mail from Mike Coty :
I don't know if I discovered an unknown Gulacy work or not. I was hoping that you could verify it.
I recently was looking through issue # 62 of Amazing Heroes. This was the 1985 Preview Issue dated Jan. 1, 1985 and it lists works that are going to be released. Under Black Diamond it describes a Graphic Novel published by Americomics titled From Brazil With Vengeance: A Black Diamond Graphic Novelette. It is described as 52 pages;b+w; with a $3.25 cover price and a cover by Paul Gulacy. The cover art is shown and it has Black Diamond pointing a handgun at the viewer and in back of her is a large swastika.
Do you know if this graphic novel was ever produced?
So, of course I ask Mr. number one fan of Paul Gulacy, the incredible, the amazing, the guy who knows everything about Paul's work : Dave "Thebest" Lemieux. Here's his answer to Mike's question :
Hi Mike & Matt.
That Black Diamond Graphic Novelette was never published. There is a color ad for the cover (by Paul) in the back of Black Diamond # 5 from 1984 indicating that the graphic novelette would be out in 1985. Unfortunately, it never happened.
That's a good find, you made though, Mike.
I also found something interesting in Amazing Heroes # 95 dated May 15, 1986. There is a preview listing of upcoming comics under Lodestone Comics for Code Name: Danger # 5 which had a story titled "Snow Job" with a cover by Paul Gulacy. No picture of the cover, however. The description was "A take-off on Miami Vice, among other things." The price would have been $1.50. Story was by Robert Loren Fleming with art by Jerry Ordway. Lodestone comics went out of business & this comic was never published. Too bad.
---
02/09/06
A sneak peak at JSA Classified cover # 10, The Fall and Rise of Vandal Savage. A four-part mini series written by Stuart Moore,art by Paul Gulacy,inks by Jimmy Palmiotti and colors by David Baron. Cover by Gulacy.
---
02/01/06
One new page from the "Punisher Valentines Special
---
02/01/06
And now page 8.
---
01/22/06
Here is a knockout SGT.FURY cover pencilled and inked by Paul coming soon.
---
01/15/06
Two new scenes from the "Punisher Valentines Special
---
01/10/06
Sneak peek from the "Punisher Valentines Special
---
01/01/06
I, And Paul, we weish you a happy nez year!
---

Website maintained by
Matt
Here's Paul's
E-mail address
Last modification September 16, 2012